Terry Rickard – Palms Associates, LLC
Satisfying a Southeast rental demand
Grounds are breaking for multiple projects in the Southeast where a perfect storm of job growth, migration and high housing prices creates rental demand.
The high-end Devon Pointe II in Goose Creek, South Carolina, is slated for 56 more apartments. Not too far away in Summerville, 152 units are in the engineering stage at Dorchester Creek Apartments. An extensive renovation is underway in Charleston, South Carolina, where The Islands Clubhouse will be enhanced with amenities expected by today's tenants.
In Richmond, Virginia, 132 apartments are in the engineering stage. On the commercial side, a closed Toys R Us in Newport News, Virginia, was upfitted for a new Burlington retail store. Several new spaces have been upfitted and rented as renovation of the Indian River Shopping Center in Chesapeake, Virginia Continues.
All are being done by Palms Associates LLC, which is building or improving 23 communities between Virginia and Georgia. Then there are over 25 commercial properties that the firm also owns and manages from Maryland to Florida. More are on blueprints, Palms Associates looking to expand its array of office buildings, retail centers and single-tenant-leased assets.
As maintenance director, Terry Rickard has a hand in all projects and doesn't need reminding that the quality of his work will be assessed for decades to come.
"We're not flipping properties for anyone else," the good-natured Rickard tells Blueprint in November from headquarters in Virginia Beach, Virginia. "And what we have we must maintain."
Virtual mentoring
A member of Palms Associates LLC for over 17 years and maintenance director since 2014, Rickard has seen his role evolve as his employer expands its holdings to over 5,500 rental units as well as the commercial properties. He engages in the process early, visiting sites and keeping a photo library as buildings take shape. Should issues arise even years later, he'll have the documentation to find the root cause. He's big on checks and balances, a process that's becoming more tech-focused, partially because of COVID-19.
While the pandemic didn't curtail too much of his on-the-job travel, it did force him to explore virtual procedures, including training. He's enlisted a third-party vendor, Interplay Learning, to test a system that would teach hired hands such subjects as electrical, plumbing, HVAC and carpentry, even using elements of a video game to make it fun. Though Palms Associates LLC and Interplay were still negotiating in December, Rickard expects a deal to be sealed.
"It's a lot different from anything else I've seen out there," he says. "It's going to make the learning piece so much more interesting and keep the end user engaged. It's not just sitting in front of a computer. I don't want to say it's a video game, but it does have graphics that you can control."
The company is also experimenting with other applications that should make it less paperless and more mobile. Technology's the key to simplifying and communicating, he says, and both are essential to attracting and holding onto talented tradespeople, which was a challenge even pre-pandemic.
Bringing new hires up to speed and showing how Palms Associates is committed to their development goes a long way toward ensuring the personnel is in place. How necessary that is as the company taps a prosperous yet often unrecognized rental market.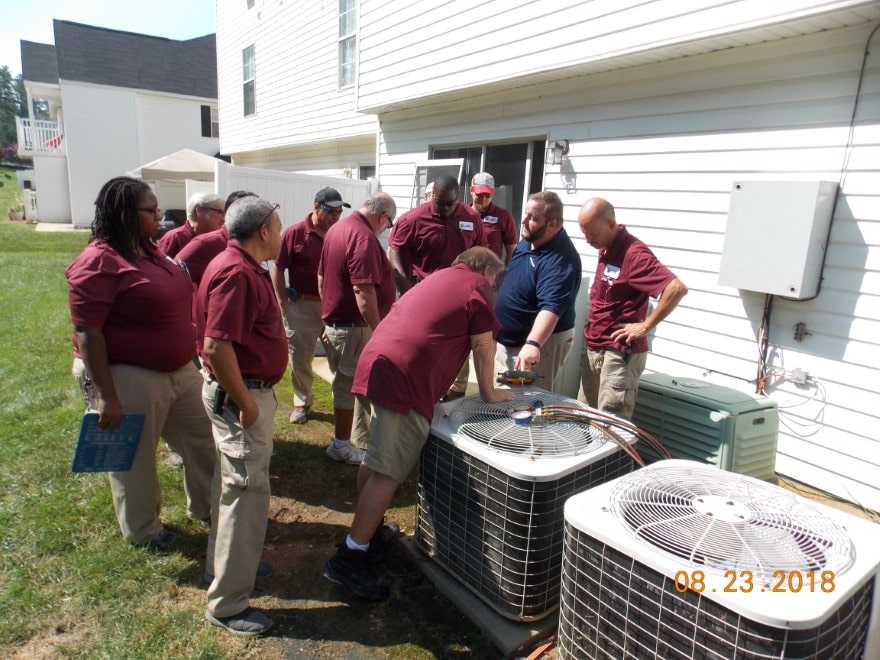 "There's a huge need for rental apartments and houses," he says. "Some developers just haven't gotten it, but we have. The Southeast has cities such as Raleigh, Charlotte and Charleston that just continue to grow."
And these might be looked upon as more livable cities, offering many of the same attractions as major metropolitan areas but with a more manageable pace. There often being buildable property outside the downtowns and on the outskirts, these cities fit into what Rickard describes as the Palm Associates model of suburban or at least more relaxed living.
Tenants tending to stay for years, they expect more than just basic units. Fitness centers are on everyone's list, Rickard says, as are spacious outdoor areas for grilling and socializing. The pet-friendly mindset is another draw.
A born builder
Now in his early 60s, Rickard has held maintenance positions since graduating high school in 1978, learning the trades from his father who commenced with apartment upgrades after retiring from the military. Always good with tools, the young Rickard says he was hooked early, taking much satisfaction at the consummation of every project.
Upon joining Palms Associates LLC, he recognized the need for better organization at Virginia Beach, as well as the regional management offices Newport News, Raleigh, Charleston and Charlotte. If the maintenance shop at every property was similar, it would save the company time and money, and that was his initial focus.
Now head of a team with six direct reports, Rickard says patience is a necessity, given the many variables that affect how construction and maintenance proceed in a large multifamily or commercial property. "It's something I learned early on," he says. "Not everyone learns at the same pace and there's such a shortage of qualified people."
And he retains the enthusiasm that has marked Rickard's 40-plus years in the trades. He has no thoughts of retiring and looks forward to the next project.
"I feel extremely lucky that I've found a career I've enjoyed my entire life," he says. "There's not a day that goes by when I'm not excited to get up and go to work. Not all days are good but that's never stopped me. Other people bounce around from career to career, but I still enjoy mine."
View this feature in the Blueprint Vol. II 2022 Edition here.
Showcase your feature on your website with a custom "As Featured in Blueprint" badge that links directly to your article!
Copy and paste this script into your page coding (ideally right before the closing